Analyst Suggests iPhone 5S Could Launch in Mid-2013 with NFC, 128 GB Storage, 6-8 Colors
Apple
|
24-7compare
| December 10, 2012 at 5:36 pm
---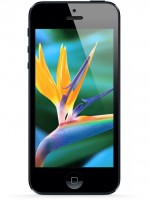 Jefferies analyst Peter Misek today released a new research report that is gaining attention for its claims regarding Apple's next generation of iOS devices. Based on supply chain checks, Misek believes that the iPhone 5S is likely to launch in June or July of next year, in line with several other reports citing a similar timeframe.

Misek makes a number of interesting claims regarding features of the iPhone 5S, classifying them into "likely" and "possible" but offering little expanded commentary on any of them.

Based on our checks, likely updates include a new super HD camera/screen, a better battery, and NFC. Possible updates include an IGZO screen for Retina+, 128GB storage, and coming in 6 to 8 colors.
Going further, Misek discusses a number of different iPhone 6 prototypes he believes are currently circulating, referring to the device that would follow next year's iPhone 5S.

Several iPhone 6 prototypes appear to be floating around. The model with a 4.8″ screen is the most interesting. It has a Retina+ IGZO screen, a new A7 quad-core processor variant, and a new form factor with no home button. Full gesture control is also possibly included.
Misek also revives talk of a low-cost iPhone at a $200-$250 price point on an unsubsidized basis, but claims that the project has not yet been given the go-ahead.

A mid-2013 launch for the iPhone 5S would make for an accelerated update cycle on the iPhone, but as was seen with the iPad this year Apple may be working to speed up the intervals between product updates in order to enhance its competitiveness. Asymco's Horace Dediu last week outlined several reasons why Apple may be making such a concerted effort, with one major reason being the strongly cyclical nature of Apple's sales that sees customers holding back on purchases for as much two quarters ahead of an expected product release. Accelerating product releases would make customers more likely to skip generations but smooth out Apple's sales numbers while keeping its products fresh and competitive.

Misek also believes that Apple will be launching the fifth-generation iPad around June of next year, with the device adopting an IGZO display to reduce thickness and weight. The iPad mini is reportedly also scheduled for an upgrade around the same time, potentially adopting multiple new colors and a Retina display.

Finally, Misek believes that Apple may launch its long-anticipated television set with gesture and voice control in September or October of 2013, with delays said to be stemming from issues with Sharp's financial stability and yields on IGZO panels. Apple is reportedly struggling with content negotiations for its rumored television set initiative, but fresh comments from CEO Tim Cook regarding television being an "area of intense interest" have continued to drive speculation about Apple's efforts.

In most cases, analyst reports should be taken with considerable skepticism, and Misek has had a mixed track record in the past. His closest hit was likely early claims of the iPhone 4S, while he has missed on other topics such as a thinner IGZO-based iPad for the third generation earlier this year and a Netflix competitor from Apple.


Recent Mac and iOS Blog Stories
• Apple Shifting to TSMC for A-Series Chip Production Earlier Than Expected?
• Best Buy Offering $50 Off of All iPhone 5 Models
• 'Baldur's Gate: Enhanced Edition' Arrives for iPad
• RadioShack, Target, and Best Buy Offer Deals on the iPhone 5
• Apple Updates OS X Server, Adds Caching to Speed Distribution of Mac App Store Updates


MacRumors: Mac News and Rumors – Front Page
Tags: Analyst, Color's, Could, iPhone, Launch, Mid2013, Storage, Suggests